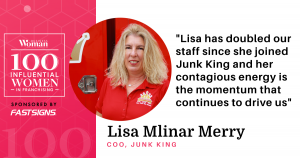 Junk King, the nation's top-rated junk removal and hauling company, has announced today the inclusion of Lisa Merry, Chief Operating Officer, in Business Woman Magazine's 100 Influential Women in Franchising list.
The list compiled by the Business Woman Magazine's editorial team recognizes 100 powerhouse women in franchising.
"Lisa has been a force since she joined the Junk King team last year," said Michael Andreacchi, founder and CEO of Junk King. "Her past experience has really elevated us as a brand. She has doubled our staff since she joined Junk King and her contagious energy is the momentum that continues to drive us."
As the COO of Junk King, Merry has helped guide the brand as it navigates through the COVID-19 crisis, both pivoting its safety guidelines for franchisees and monitoring consumer behavior. Building out the management team to offer additional support to its franchise community, she also helped achieve exceptional results during this unprecedented time.
To view the entire "100 Influential Women in Franchising" list for 2020, visit www.what-franchise.com/business-advice/running-a-franchise/100-influential-women-in-franchising-2020-breaking-the-glass-ceiling. Results can also be seen in Issue 3 of Business Woman Magazine.
About Junk King
Junk King is a white collar business management franchise in a blue collar industry with company operations showing more than ten years of sustainable growth. The company is firmly entrenched as the second largest and fastest growing player in the still young junk removal industry. Junk King launched its franchise in October 2009 and has awarded more than 100 new franchises, including two Master licenses in Canada. Junk King has a flexible, easy to scale model with a quick start-up and few fixed costs. The company has also expanded into the dumpster sector, offering additional services and revenue streams to franchisees. To learn more about Junk King, please visit https://www.junk-king.com.
Back